A Remodel of a Cabin in the Woods
A relocated L.A. designer reclaims and renovates a rustic mountain cabin with a mix of retro and new elements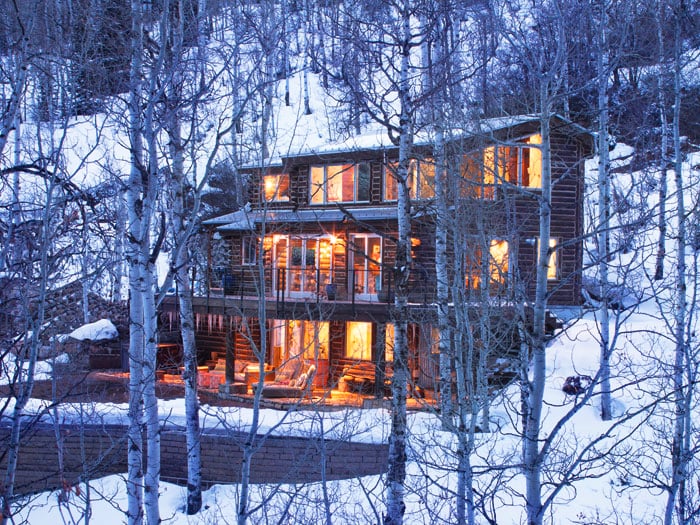 Interior designer Susse Budde, co-owner of Dimension Fine Homes, spotted a quaint—and tragically neglected—log cabin in an aspen grove near Steamboat Springs and knew she just had to investigate. Nevermind that she wasn't in the market for a second home. Nevermind that she was in Steamboat because her home in Los Angeles was undergoing a major remodel and she needed a vacation from construction. The "For Sale" sign and stand of aspens were too alluring to pass by. "It was a small cabin, built in the early 1900s," she says, "and it only had a loft, a bedroom and a kitchen with a shower in the corner—as well as a very dark, underground basement." Yet she saw potential. "I thought it'd make a nice vacation home," she explains. So she bought it.
That was 2005, but the remodel didn't really get serious until 2007. When it was completed the next year, Budde and her husband decided to leave Los Angeles and live in their cabin in the woods full-time. The complete reconstruction included gutting the main and lower level (as well as excavating to allow a walkout basement) and "popping the top" to create two master suites at tree level.
Budde's design goals were specific—to include the gorgeous views while creating a mountain aerie, not a cavern. "So many mountain homes are dark—even with windows—and are filled with heavy furniture and antler chandeliers," she says. The renovated home is a modest 3,000 square feet on three floors, so she wanted to make it look as spacious as possible while respecting the integrity of the setting.
The home was originally a small log cabin with an unfinished basement and a tiny living space on the main floor. Excavated from below and extended vertically, the three-story house is all windows and logs, fitting perfectly into its setting.
Light and bright, this living room is the antithesis of a typical log cabin. A deep orange houndstooth rug from HW Home anchors the space, accommodating a white-leather Italian couch and a custom-made swivel chair; a live-edge tree slab serves as a coffee table, with a Gail Folwell sculpture from Walker Fine Art dancing on top. Instead of ubiquitous river rock, Budde installed one-by-four-inch quartz tiles vertically on the fireplace surround.
Practicality reigns in the kitchen. An island, topped in Carrara marble, is on wheels. Paired with red Leo barstools from Room & Board, it provides the perfect spot for casual dining. Glass upper cabinets create airiness and display space while solid lowers hide kitchen accouterments.
In keeping with the airy feel, the master bedroom and bath are separated only by a partial interior wall. Ocean, an oil painting by Susan Schiesser (from Red Contemporary Gallery in Steamboat Springs) hangs above the simply-dressed bed.
The furniture on the lower patio—a charming combination of wicker-like sofas and chairs and colorful poufs—is from Restoration Hardware.
DESIGN DETAILS
Interior Designer/Contractor Susse Budde, Dimension Fine Homes, Inc.