A Historic 1890s Barn is Revived
The outbuilding is transfigured from tumbledown to guest-ready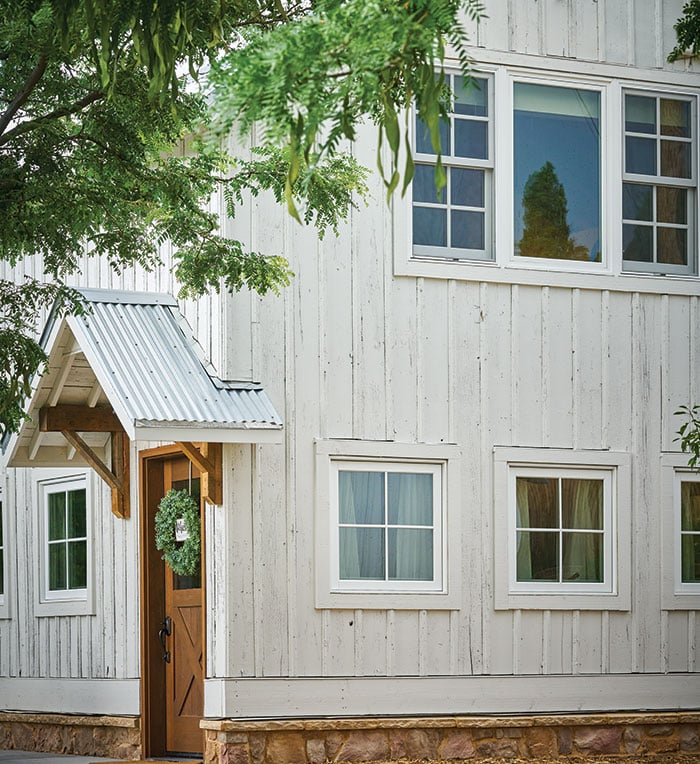 WHAT: An 1890s, 750-square-foot barn is revived for the modern era in the best possible way: by championing its farmhouse roots.
WHERE: Castle Rock
WHO: David and Brittany Braun

Exterior Re-using the barn's well-worn, original board-and-batten siding gives the new-build a timeless curb appeal. The couple sourced plenty of finds on Etsy, but one of their coolest treasures—a cast-iron light with a scallop shade that hangs under an outdoor eave—came from a slaughterhouse that was being torn down just a half-mile away (they hired an electrician to retrofit it to their needs). For the roof, they selected galvanized metal in hopes that it will eventually patinate.
WHY: The couple had already resuscitated the Queen Anne-style house on their half-acre Castle Rock homestead—built by Civil War vet Samuel Dyer in 1875—and knew a back-yard barn would make a prime guest house.
THE CHALLENGE: "The building had been neglected for at least 50 years," David says. "And it was collapsing slowly." Renovation was out of the question financially.

Steps "The ladder steps are the actual rungs from the ladder that led to the second story in the barn," owner David Braun says of the slats which now hang, like a de facto art piece, over the stairs. "It used to be a hay loft and storage area, and that was the access."
THE ROLL-UP-YOUR-SLEEVES SOLUTION: The Brauns came up with a plan that would do the barn's original owner—whose father, John Dyer, was such a famed mining-camp minister in 19th-century Colorado that he's rendered in stained glass in the state capitol's rotunda—proud. They deconstructed the barn board by board, nail by nail, like a supersized Lincoln Logs set. "It took about three weeks to fully disassemble and organize everything," says David, who did the work himself.

Kitchen The industrial shelving is made of iron piping from The Home Depot, spray-painted gray-black. "We opted for open shelving, because the nature of the property—guests and short-term rentals—wouldn't require lots of kitchen storage," David says.
THE PROS: Enter Prestige Contractors and architectural designer Robert Akins, who used the reclaimed fir and pine wood and siding—all from Colorado timber, complete with saw marks—in a modern interpretation of the barn, now with a master-suite loft and one-and-a-half bathrooms, plus a full kitchen and laundry, where horses once slept.

Master Bedroom A Wayfair bed that echoes an antique-iron version supplies vintage charm to the second-story master bedroom.
THE PRIMPING: Brittany, whose roots here run so deep that her grandfather owned Douglas County News-Press, designed the interiors largely herself, opting for a farmhouse look. "It's my style, and it just happens to work out that it's 'in' right now," she says. Because a barn is ultimately a utilitarian space, the couple added an industrial bent, rehanging the barn's original tack rack and other functional elements to celebrate the building's workhouse history. In the kitchen, hard-wearing polished, stained and sealed concrete floors and quartz counters "that can take a beating" stand up to frequent guest use. Upstairs, the original wood floors "are great—they're so thick, you really can't hurt them. Just do your worst, and they'll look even cooler," David says.
One of the biggest challenges in the barn—besides squeezing dream amenities into a teensy footprint—lay in HVAC; the couple had wanted to install a furnace under the stairwell but couldn't make it work. Their fix? A wall-mounted Mitsubishi heating and cooling system that doesn't require ducting.

Master Bath The Brauns found a painting of Castle Rock's 370-foot-high namesake butte to hang above their claw-foot tub. "The sink in the master bath is actually a drainboard sink; they were popular years ago for kitchens, since you could drain your dishes there," David says.
THE HAPPILY EVER AFTER: "For me, maybe not emotionally but philosophically, it's nice to save things and show people the past in a way that makes sense for the future," David says, noting that finds from the excavation—including horseshoes and a stovepipe—now decorate the home's windowsills. "When you work on a historic property, you realize you never own anything; it just passes through your hands for a time. It's been an honor to steward this and carry it from one phase to the next."

Coop The Brauns' chicken coop is home to Rhode Island Reds and Jersey Reds (Airbnb guests can help themselves to eggs).
DESIGN DETAILS
BUILDER Travis Garcia, Mike Zinsmeister, Prestige Contractors, Inc. ARCHITECTURAL DESIGNER Robert H.J. Akins, Akins Cadd Works INTERIOR DESIGNER Brittany Braun