A Girl, A Blog, A Barn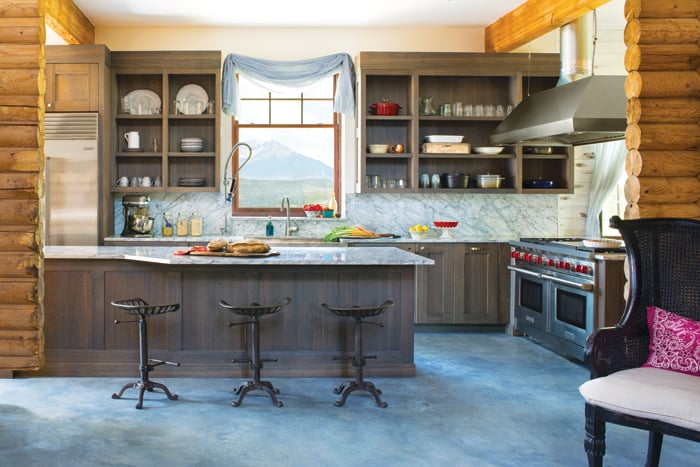 It sounds less like the tale of a successful Colorado entrepreneur and more like a children's bedtime story. In a beautiful log barn on a hill in Summit County, a girl with six siblings, two devoted parents, a flock of chickens, and a little herd of goats spends her days in a sunny kitchen, creating delicious meals for the people she loves. Along the way she kind of accidentally creates a flourishing business.
Tieghan Gerard, the blogger behind Half Baked Harvest, is as surprised as anyone by her entrepreneurial success. By working hard and doing what she loves, this 21-year-old self-described homebody and entirely self-taught chef has built a growing business with a blog that reaches a mass of global readers every day. She was a Better Homes and Gardens Readers' Choice blogger award winner, and her first cookbook, The Harvested Table, is due out in 2017 from Clarkson Potter.
What makes all of this even more remarkable is that Tieghan didn't come from a family of cooks. Kind of the opposite. When asked if any of her five brothers cook, the laughter kept her from an immediate answer. "Wouldn't that be a great story? If we were all cooking people?" she says. "But no, when I was growing up, we just cooked because we needed to eat."
When Tieghan's only sister, Asher, was born six years ago, Tieghan and her dad decided to split the cooking chores to help out. Bored by the monotony of chicken and rice and tacos on continuous rotation, Tieghan began to hunt online for meal ideas, starting with simple dishes from sites like Rachael Ray's. "Over time, I realized that there was always some little thing I wanted to change about the recipes I was trying, and realized that adapting recipes was kind of fun. And people really loved what I was making," she says.
Cooking for her family of nine and for the extended family, friends, and snowboarders who fill their busy home (Tieghan's brothers Brendan and Red are professional snowboarders) serendipitously led her to blogging. Tieghan graduated from high school early, got her associate degree, and had planned to go to school in California to finish a bachelor's degree. But she wasn't feeling excited about the prospect of leaving home and going to school when she wasn't certain what she wanted to major in.
"I reached a point where I just really didn't know what to do next," she says. "I'd been reading food blogs since I was 13, and ultimately my mom convinced me to start one. So I did." Tieghan worked on it every single day, teaching herself photography along the way and developing recipes. As she gained readers, the blog morphed into a business. "It happened sort of organically, which was awesome," she says.
The growing business was the impetus for this dreamlike barn/kitchen/studio renovation. The Gerards were living in a rented house, and Tieghan was struggling to run the business, blog, bake, cook, style, and photograph around the boisterous crowds ("we're kind of hard on houses") coming in and out of their place.
She decided she had to have her own space to make it work but didn't want to move too far away because 1) she adores her family and 2) that delicious food she makes? She can't possibly eat it all herself. "I make a lot of food, and I wasn't about to throw it out," she says. Tieghan and her parents started a search for a property that had a house and an apartment for Tieghan, and one day they came across a listing for a log cabin with a horse barn just down the hill. "It was perfect," says Tieghan. "I love my family, so having a place of my own right next door to them was the perfect situation for me. And it's very easy to get food back and forth."
The barn today is idyllic, with a professional kitchen, studio space for photography, a walk-in pantry, and shelves upon shelves. It manages to be airy, sunny, and somehow both cozy and spacious. The renovation process itself, though, was typical (i.e., less than idyllic). "The renovation took us a lot longer than we thought, something most people will tell you about renovations," says Tieghan. Her mom, Jen, concurs.
Like her daughter, Jen is a petite powerhouse of a woman with an outsize share of energy. She runs the business part of Half Baked Harvest, from sponsorships to bookkeeping to keeping the technical parts of the blog running smoothly. Tieghan credits her mom with much of the blog's success and with getting the renovation completed.
After a series of setbacks and soaring cost estimates, "we decided that the only way we could afford to finish the project was for me to take the general contractor's test and hire a consultant to help me," recalls Jen. "Luckily, I passed the test (not fun) and we hired John Vietti of Vietti Construction to consult. John was invaluable. I wouldn't have been able to do it without him. Our last hurdle was getting contractors to show up. Around here, if it's nice out, rafting, hunting, or biking might take precedence. Even worse is if it snows more than 4 inches the night before. Then it's a complete no-show."
The renovation began in spring of 2014, and Tieghan moved in in December. But it wasn't finished then. "I'd say it was finally done in June," she says.
Tieghan is now settling into her peaceful sanctuary. The family's still around, of course. Asher serves as the kid-sister version of a barn cat, perched on counters, rolling out dough, assisting with photo shoots, "helping measure flour, making a mess." And Tieghan still cooks for the family, for her very appreciative parents and her slightly less appreciative brothers. "My brothers are really picky eaters, very big on the meat, and they have very simple palates," she says. "One of my brothers has honestly not tried a piece of fruit in his entire life." Tieghan has honed her skills to the point where she's been able to feed vegetables to a brother who is "against all things fruit and vegetable" and even had a brother who "just has this thing against quinoa" eating a spicy vegetarian quinoa dish "every single day for a week straight."
Having a place of her own allows Tieghan to enjoy her family and gives her the space to get her work done. And her dedication to hard work is almost equal to her dedication to her family. She gets up at 5:30 or 6 a.m. to check in on her online presence—blog, Pinterest, Instagram, Twitter, Facebook. Then, "pretty much every day I get out for a hike," she says. "Hiking is one of my favorite things, and Colorado's my backyard, so I feel I should really take advantage of it because most people can't say that."
Back home, she heads to the kitchen, where she works on versions of recipes like Towering Flourless Chocolate Stout Cakes and Brie-Stuffed Burgers with Sweet Chili Corn Salsa. She sometimes makes one recipe two or three times before she's satisfied, and while cooking she's also taking photos of the cooking process and shooting pics of the finished dishes. She stops cooking around 5 p.m.
"Then my dad, who is the best, most awesome guy—I am dead serious right now—comes down and does all the dishes while I put away dishes and equipment," she says. "The cleanup takes at least two hours. It's so nice to have Dad's help when I've been on my feet all day." After dinner, Tieghan retreats with her laptop to her upstairs aerie and, tucked under her splurge Anthropologie bedding (Anthro's a favorite; she has a collection of their linens and dishes for food styling), she does what she calls the work-work. "I'm back on my computer writing the next day's posts, editing, sending photos, recipes, answering comments and email," she says. "And then I go to bed. I do like my sleep."
When asked if this grueling schedule doesn't sometimes feel a bit like… "Does it feel like work? Yes and no. But for the most part, no," she says. "It can get a little overwhelming when your to-do list is a mile long, but then I think: I get to do this for my job. I can make a living at this. I get to be creative cooking and baking and styling and taking pictures, and I'm surrounded by the love of my family. I am very lucky."
DESIGN DETAILS
CONSTRUCTION John Vietti, Vietti Construction LLC, Dillon, CO APPLIANCES Roth Distributing FRIDGE and STOVE Sub-Zero and Wolf CABINETS Custom Woodwork PHOTO STYLING By Ruth Sonnenshein
​Also, Tieghan created this fall-inspired recipe just for us: Baked Buttermilk Pumpkin Doughnuts With Hot Cocoa Glaze