A Denver Square Home With Queen Anne Details​
A charming 1800s home in Congress Park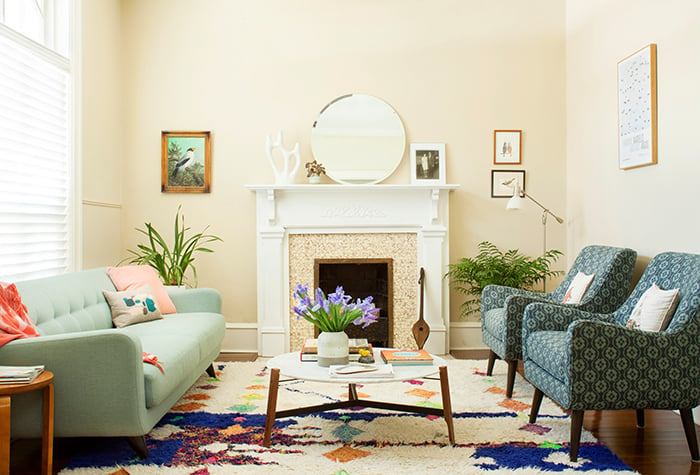 HOUSE NOTES
When Batya Stepelman and Matthew Berman (both in their 30s) decided to flee their beloved borough for Denver, they envisioned a historic neighborhood with friendly coffee shops, trendy restaurants, ample foot traffic, and urban grit. They found their dream in a 3,700-square-foot traditional Denver Square home with Queen Anne details and modern touches (i.e., air conditioning and working windows). With a booming blog (Sparrows & Spatulas) and Instagram account (@sparrowsspatulas), Stepelman, like most moms with young children, is designing her home slowly, taking into account the rough-and-tumble play of two small boys while giving her design thought, and her budget breathing space. Fun comes first these days, and the stains on the living room sofa are evidence of a newly found philosophy of just letting go.
The couple fit all of their NY belongings in a 12-foot truck. "We owned almost nothing … just one well-worn couch," says Batya. "We bought some big pieces from Room & Board, West Elm, and Blue Dot, but that was a mistake because Theo was two and smeared a petroleum-based product everywhere. From then on, I decided to focus on using wall coverings, color, and pattern."

Otomi wallpaper from Hygge + West, a vintage Persian rug, and her mom's typewriter make for a welcoming entry.
"What I love most about this house is the historic details…the molding, the staircase, the fireplaces, the exposed brick. There are so many nods to  history." —Batya Stepelman

The Berman dining rooms features a Cliff Suspension Lamp from Lambert & Fils, a West Elm table, and midcentury chairs from Mod Mood. The dining room mascot is Red Deer Stag by Amy Hamilton from Society 6.

Blu Dot Hot Mesh Chairs from Mod Livin' and Figs wallpaper from MissPrint add panache to Stepelman's busy kitchen. Pots are hung from Ikea racks to save space and add a down-home touch.

The family room houses a well-serviced sofa and an Otis swivel chair, both from Room & Board. The Bill Murray pillow is from Society 6 and rests below a Smolinski painting from a local gallery. Says Stepelman, "The painting has a big Godzilla on it and my boys love it." The vintage yellow nesting tables belonged to Stepelman's dad.

"The boys' room is an entire floor. I had the least design input here," says Stepelman. "There are dinosaur stickers on the wall; it's a little messy and not matchy-matchy. It's a room where they can go wild and be little boys." Stepelman went all Ikea furniture-wise but upped the style quotient with an Eames Molded Plastic Armchair Rocker from Design Within Reach and an Anthropologie garland.
SEE MORE:
A Historic Home on the Slopes of Chautauqua Park
A Denver Home with a Transformed Backyard
A Luxury Resort-Like Home in Denver