A Comprehensive Guide to Gardens
Your one-stop guide to six major landscape architecture styles, from native Colorado gardens and beyond.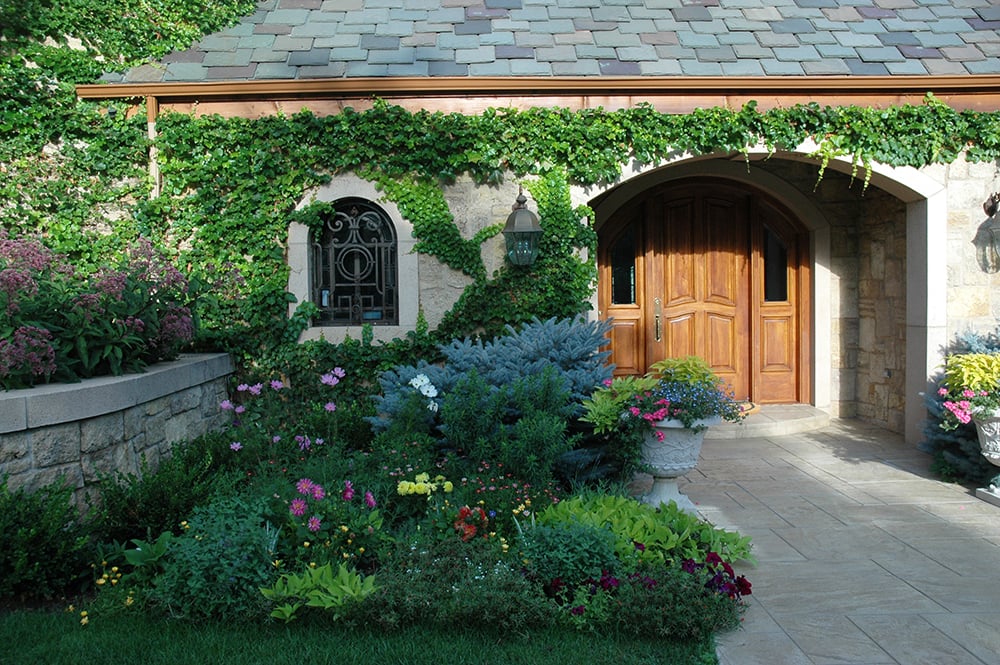 The first official day of spring is just days away—the perfect time to renew your Colorado home's outdoor living spaces. Looking to design your dream garden? We huddled with Lifescape Colorado designers Jacob Rogers, Vejay Bala, and Troy Shimp to create this one-stop guide to six major garden types, from native Colorado gardens to styles popular all around the globe.
The Japanese Garden

Photo courtesy of Lifescape Colorado
There is something magical about Japanese gardens. The style—subtle and simple, without much color and contrast—has been around for more than 1,300 years. Originated in Japan, its tried-and-true features have stood the test of time. If you get the following design elements right, you'll be enjoying a Zen garden in no time.
Japanese gardens incorporate plants that will thrive and offer beauty through each of the seasons. In addition to multiple types of conifers for year-round greenery, think trees like the Japanese maple for an autumn palette and deciduous plants that bloom in the spring. Keep in mind that greenery is queen in Japanese-garden summers (not colorful flowers, like other garden types), and interesting shapes take center stage in the winter.
Landforms, plantings, and pathways should relate to the scale and size of the human body; it's rare to see large shade trees in a Japanese garden. Other key elements include pathways with moss groundcover in between the stones, bridges (the path to paradise), lanterns, gates, reflecting pools with koi fish, ornamental grasses, and the distinct sound of moving water. Featured prominently in Japanese gardens, water and stone are considered the "yin and yang" of the garden.
There is an integration between the home and landscape in Japanese gardens; the design is crafted with interior viewing in mind, often through large windows. Empty space plays a key role. Lawns, gravel, ponds—these spots without plantings give the viewer a sense of depth and visual interest.
The Traditional/Formal Garden

Photo by Dan DeGrush, Lifescape Colorado
The traditional garden style is formal, sophisticated, and classic—an aesthetic that works with a variety of home styles and climates, Colorado included. Chief features include expanses of meticulously tended lawn to anchor the space, hardscapes that are geometric and establish a foundation for the overall order of the garden, abundant spring bulbs, flowering shrubs, brilliantly colored perennial borders, and clipped hedges. Traditional gardens often boast fire pits, brick and stone pavers, and built-in outdoor kitchens—the perfect outdoor living spaces to host dinner parties or enjoy an evening drink al fresco.
The Mediterranean Garden

Photo by Dan DeGrush, Lifescape Colorado
The Mediterranean garden was made famous in the countryside of Greece, Italy, and Southern France. This romantic style features soft colors, gravel walks, clipped hedges, and succulents, and performs best in drought-tolerant landscapes. These gardens typically display mosaic-tiled walls, tables, and pots—as well as unglazed terracotta pots filled with hearty plants like lavender and other Mediterranean herbs like oregano and rosemary. It's also not uncommon to see water features like ornamental ponds, pools, and fountains.
One of the most striking elements of Mediterranean gardens are stone walls adorned with climbing plants like grapevines or honeysuckle, along with shaded seating areas (such as pergolas covered in climbers)—the perfect retreat from the relentless Colorado sun.
The Contemporary Garden

Photo by Dan DeGrush, Lifescape Colorado
The clean lines and use of natural materials make the contemporary garden suited just as much for an urban environment as on the side of a mountain, says Rogers. Free-flowing grasses, native perennials, and soft groundcovers add warmth, texture, and movement.
"The most identifiable characteristics of contemporary gardens are simplicity and clean lines over a geometric layout," Rogers says. "You'll often find large slabs of open space bisected by sharp lines, both horizontal and vertical. These combine to create a simplistic and peaceful environment."
"A minimalistic approach in design allows for each element to express itself fully, and for this reason, construction materials are very important and play just as much a part of the garden as plants do. Steel, wood, concrete, and smooth pebbles are often combined to form the hardscape elements. Approaches to plantings can vary, but I really enjoy adding warmth and motion with ornamental grasses. A restrained plant palette is fairly common and massings of the same type of plant help to emphasize a clean aesthetic. When done well, a contemporary garden is a beautiful example of the man-made world and natural world existing harmoniously."
The Native/Natural Colorado Garden

Photo by Dan DeGrush, Lifescape Colorado
For Colorado homeowners, the native/natural Colorado garden truly honors the surroundings and creates a sense of place. On top of that, according to Bala, it's also responsible stewardship—providing beauty and habitat for people and wildlife without taxing natural resources.
"This garden style instills a regionally appropriate language through the use of native material, like plants and stone," Bala says. "These gardens typically have more organic (and more forgiving) layouts. Some plants can even reseed or colonize if conditions are right. The informal nature of a native/natural garden allows for more spontaneity and seasonal interest (spring ephemerals can be interspersed easily within a meadow-grass base or woodland floor to further extend the flower season). Native/natural gardens are just less fussy in general and typically require less overall maintenance to look great."
Ornamental grasses, dwarf conifers, xeric wildflowers, Aspen/pine/spruce trees, and boulders are the base ingredients for any native/natural Colorado garden. "Denver, Colorado is historically just an open grass prairie. Using ornamental grasses can speak to that aesthetic and can also create a visually interesting meadowlike effect with the addition of wildflower-like perennials."
Homes with mountain-style architecture are great for native/natural gardens, along with modern and contemporary homes; even traditional-style homes can benefit from implementing naturalistic gardens for water-conservation purposes—the quintessential ode to the beauty of the Centennial State.
The English Cottage Garden

Photo courtesy of Lifescape Colorado
The English cottage garden is a picture of "controlled chaos," says Shimp. "This style can be used with many home styles appropriately, from bungalows to Tudors to anyone looking to achieve a garden that is full of color and variation. The most successful English cottage gardens have a lot of plant variety, but there should be several of each planted together in a large enough massing that no one color gets lost or dominates."
"English cottage gardens should be everblooming throughout the season—using plants such as roses (both climbing and shrub), and perennials with height and variation, such as veronica, foxglove, delphinium, and hollyhock. And intermediate growers such as catmint, peony, lavender, salvia, lady's mantle, and geranium. And don't forget the vines, such as silver lace, honeysuckle, and clematis. There is often furniture, structure (arbors, trellis', gates, benches), or time-worn statuary placed around the garden to provide additional interest."
The best part of these designs? "The variety and freedom of what can be planted," Shimp says. "There is always something new to look at and be inspired by. English gardens make great cut-flower gardens, as flowers can be cut without being missed, given all of the other blooms."
LeAnn Ostheimer is EVP of Design Build with Lifescape Colorado, a Denver-based design, construction and maintenance landscape architecture firm. View their profile or reach LeAnn or one of their designers at 303-831-8310.
Content for this article provided by Lifescape Colorado.