A Boulder Farmhouse for the 21st Century
The right perch, the right architect and lots of traditional inspiration come together in this young couple's home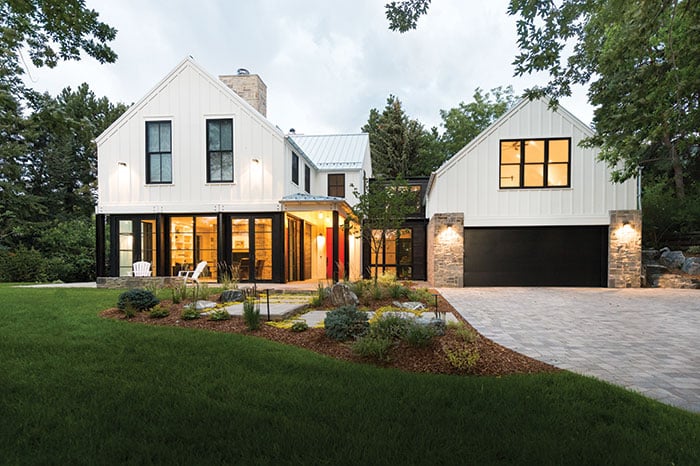 Sometimes finding the right house means first finding the right spot. That proved to be the situation for a young Boulder couple in search of treehouse views and open spaces. "We weren't looking to build; we just wanted to find a great house with a yard for our kids to play in," says the wife of her two energetic daughters, ages 1 and 6.
The couple's in-town exploration led them to one realization: "Most of the houses we loved were designed by Dale," says the wife, of Surround Architecture Principal Dale Hubbard.
So when their realtor, Miles Kunkel, found (and procured) a house on a near-acre lot in the Geneva Park neighborhood, they leaped at the chance to match Hubbard's skills with their newly acquired dream plot. Then they tore down the dated house and started from scratch. "We felt a lot better knowing our builder [Seth Murphy of S.L. Murphy Construction] recycled almost every part of the old house," says the husband, a young entrepreneur.
Hubbard's previous work on 19th-century farm structures that once abounded north and east of Boulder inspired his modern-farmhouse vision. "I wanted to bring forward some of those details and capitalize on the idea of 'stumbling upon a country farmhouse,' right here in the middle of Boulder," he says. The lot was conducive to this stumbling, with its long driveway off the street and around a bend, leading to a house hidden among the trees.
"This house is a real marriage of our styles," the wife says. Oversized windows and multipaneled NanaWalls that offer oodles of light and air suit the husband's more contemporary leaning, while the structure and materials speak to the wife's love of the traditional, with high-pitched, cross-gable roofs; clean-lined fascia and frieze boards; and lap siding inside and out, among other classic farmhouse features. »
"The property felt like a woodland, which is a very rare vernacular to work with out here," says landscaper Luke Sanzone, principal of Marpa Landscape Architecture. "Our goal was to create a magical landscape in the woods and protect the large existing trees." Sanzone also enhanced the landscape by adding 30 new trees, imported Italian bluestone walkways and locally sourced boulders for a reinforcing wall.
The landscaper topped it all off with two custom-crafted outdoor fire pits, one each in the front and back yards, which cast a lovely glow year-round. "On Christmas we had friends over, the front outdoor fireplace on, fun music and the indoor fire blazing. With the snow coming down, it was like living in a snow globe," says the husband. "What we love most is that we feel like we're deep in the country, but we're eight blocks from Pearl Street."

Photo by Ashton Ray Hansen
Outsized NanaWall opens up to bring the outdoors in for maximum play. Gold chenille sofa is custom-made by Kravet, pillows are custom designs from Schumacher and Kravet; pair of Herman Miller Crosshatch armchairs are from DWR (by EOOS for Geiger); coffee table is Restoration Hardware; area rug from Williams Sonoma Home; runner from Westward Foundry; mahogany sideboard in charcoal finish is from Noir; see-through fireplace features herringbone stone tiles; kindling basket from Roost; ceramic lamps are hand-thrown by Caravan Pacific in Portland, Oregon.
"It's a great place for our kids to play and explore, and the house is spacious but feels cozy." — Homeowner

Photo by Surround Architecture
The 19th-century farmhouse-style board and beveled battens balance the modern look of the galvanized-steel standing-seam roof, oversized double-hung windows and out-swinging French doors on three sides. Such light-gathering features are a deconstructed take on farmhouses of yore, which were much darker inside. The outdoor fire pit, built by Marpa Landscape Architecture, was inspired by the original artist's rendering in the house plans.

Photo by Surround Architecture
The gray sandstone fireplace with black herringbone firebrick recalls a 19th-century farmhouse hearth, but it goes modern with a poured concrete mantel. The smoked European-oak floors carry throughout the house; a blue-velvet love seat is from Anthropologie, leather recliners from Arhaus, brass pendant lamp from Arteriors and a New Zealand sheepskin rug was sourced by Westward Foundry.

Photo by Surround Architecture
"Staircases are a great way to get light into the structures, and this one extends from the second floor to the basement," says architect Dale Hubbard. Not pictured is a lounge-like landing at the top of the staircase, where the children look at books—and out the windows into a wooded wonderland, as if from inside a treehouse. Boulders are locally sourced from Albert Frei & Sons quarry in Idaho Springs, meticulously chosen for their dark grays and white-quartz marbling—and perfectly scaled for the resident 6-year-old, a budding climber.

Photo by Ashton Ray Hansen
East-facing wall-size windows steal the show in the luminous, spacious kitchen. Kichler Everly pendant lights hang from the painted-wood herringbone ceiling; a hard-to-find single slab of quartzite (from The Stone Collection in Denver) boasts streaks of blue-gray that perfectly match the island's paint. Tractor stools from Design Within Reach tuck under the island's side. Cabinets and cupboards are custom designs by Surround Architecture, with modern details—long slender pulls and subtly beveled back bands—inspired by Shaker practicality.
"Color was critical," says landscaper Luke Sanzone. "For plantings, we chose colors that would stand out against the darker elements of the house, and our ground covers set the tone, with chartreuse creeping jenny and Rozanne geraniums, which get covered in purple flowers. We used bright hostas, bleeding hearts and lots of hydrangea. So in the spring, it really pops."
DESIGN DETAILS:
ARCHITECTURE Dale Hubbard, principal and lead design, Rory Bilocerkowycz, project architect,  Anna Slowey, project designer, Surround Architecture CONSTRUCTION Seth Murphy, S.L. Murphy Construction LANDSCAPE ARCHITECTURE Luke Sanzone, Marpa Landscape Architecture INTERIOR DESIGN Lindy & Jordan Williams, Westward Foundry
SEE ALSO:
A Spacious, Modern Farmhouse in Denver
Sitting Pretty in Chautauqua
British Style, Boulder Views
SaveSaveSaveSaveSaveSaveSaveSaveSaveSaveSaveSaveSaveSaveSaveSave