A Bit More Bling
A little snap, crackle, pop infuses a traditional Park Hill home with a modern touch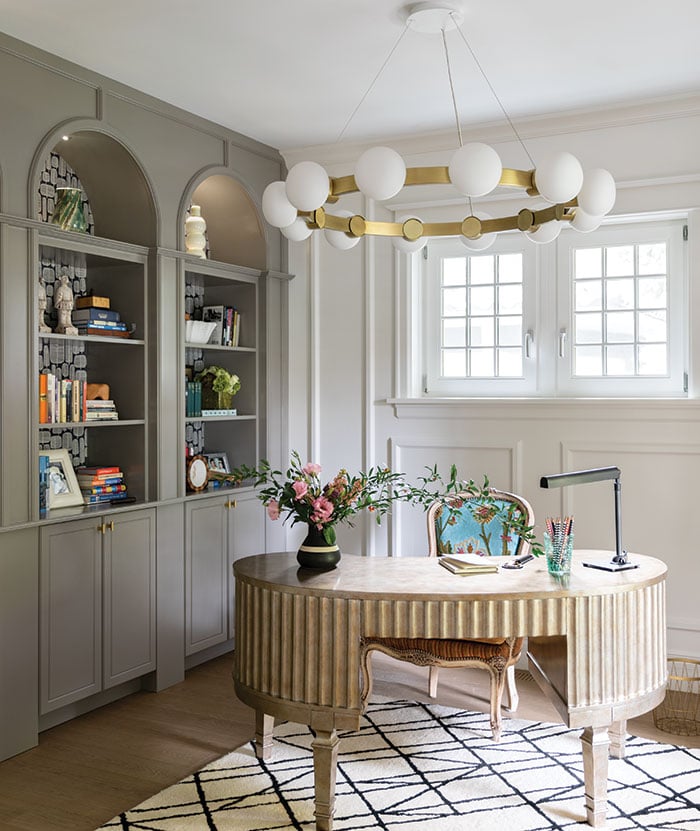 "I think as you get older you need a bit of bling," says Fiona Arnold, referring to the studs-up renovation of the Denver Square she shares with her husband, Bill, and their two college-age kids. When the Arnolds undertook the massive redo, they knew they had to conserve some of the traditional elements of the house—built in 1900—but they also saw their chance to "add a little pop." The result: a refreshed classic with major splashes of zing.
The renovation was initially supposed to involve a single room. "We started this project with a plan to add just a master closet," laughs Sarah Sexton of Sexton Lawton Architecture. "It kind of exploded from there." Foundation issues sparked much of the explosion. The house, as it turned out, needed structural support to correct issues prior renovations had caused.
In the process, the couple was able to bring in the contemporary style they'd always loved from afar. "It's just so fun being brave and taking chances. I think you can surprise yourself when it comes to your own home," Arnold says.
Sexton removed most of the walls on the first floor to make it feel more coherent, and she was also able to clean up some "odd funkiness" resulting from an addition to the house in the '80s. She was careful to match the original baseboard and trim in the original entryway, and the exterior didn't change at all. Inside, however, they infused the 3,000-square-foot home with unexpected flashes of color, rad wallpaper, industrial elements, modern brass fixtures and a mélange of artwork. The result, says Arnold, is an eclectic mix that might look "a bit messy" but is never overpowering or manufactured. "It lives modern but definitely gives a nod to the traditional," explains Sexton. "And working with Fiona made it so easy."
"I think as you get older you need a bit of bling." — Fiona Arnold, Homeowner
One might not know upon first meeting Arnold—an understated woman with a light-brown bob and a lilting Aussie accent—but she is a career powerhouse with serious business acumen. She served as executive vice president and general counsel for Vail Resorts from 2006 to 2013, leaving the job to become executive director of the Colorado Office of Economic Development and International Trade under Governor John Hickenlooper. Arnold now owns Mainspring, a company that engages in commercial and residential real-estate development and retail business (Backyard on Blake, Blue Sparrow Coffee, River North Workshop). Mainspring acted as general contractor for the house, and Arnold took the role of interior designer, a task she embraced in almost every aspect.
A conscious decision to incorporate nearly all American-made, small-batch products in the design—lighting, wallpaper and cabinetry—might not have been the most efficient option, she says, but it was a practice in patience. "We were definitely sitting around waiting for stuff," says Arnold, "but it's about supporting the incredible, creative people we have in this country and giving back to small businesses. And I love the handmade look and feeling of these products."
The other smart move, she says, was hiring Batya Stepelman of WallTawk to help her choose wallcoverings. "Batya is incredible. She's one of the most curious people I've ever met," says Arnold. "What right does she have to be the godmother of wallpaper? I mean, she's a lawyer. But she is a kindred spirit, and she's fearless." Together, the two women chose eight wallpapers for various areas of the house, each in completely different patterns, colors and vibes.
Although there is craziness in certain areas, Arnold says, her home is the perfect respite. "On weekend mornings, we open up the patio doors and listen to the birds, feel the breeze, and sit outside on the deck and have our coffee. It's the best thing ever."
DINING ROOM

An Anna Karlin Spear Pendant Chandelier hangs above a vintage Milo Baughman Parsons Extensions Dining Table from 1st Dibs. The rug is Magnolia Ice Wool & Silk by Vivienne Westwood from The Rug Company. Christopher Farr fabric curtains with Samuel & Sons trim are from Ketch Design Centre. The chairs are Saarinen, and the lampshade fabric is Punica. An eclectic art wall includes an Emil Bisttram original from David Cook Galleries in Denver.
KITCHEN

The cabinetry is William Ohs Ascend in Chalk White. Natural-brass Greenwood pulls and hex knobs are by Schoolhouse. The Newport Brass East Linear Pull-Down Kitchen Faucet is from Ultra Design Center in Denver. Countertops are Caesarstone in Fresh Concrete from Goodman Tile & Stone. Calacatta Borghini Large Herringbone tiles from Ann Sacks line the backsplash, and the Shaped Concrete Dome Pendants are from Shades of Light. The Elysian bar stools in Satin Brass are from Lawson-Fenning, and the flooring is engineered European Wide Plank in Knotless Sanded Oak by Arrigoni Woods.
"Everyone wants more open living spaces. The days of the formal living room are numbered."
— Sarah Sexton, Architect
LIVING ROOM

Poufs and a coffee table, all from HW Home, surround a Restoration Hardware sectional and chair. The plaster-recessed trimless downlights from Light & Green accent the space, and a NanaWall folding glass wall from LTS Enterprises opens up to the patio.
In the living room, a small table lamp from Anthropologie sits atop a Room & Board Hudson credenza. The midcentury wooden-leg planter is from West Elm.
STUDY

In the front study, a Cinema Chandelier from Rich Brilliant Willing hangs over a Horchow desk. Mainspring custom-designed the cabinetry, painted in Sherwin-Williams Elephant Ear. The wallpaper within the cabinets is Little Trees in Charcoal by MissPrint. The lamp is from Restoration Hardware, and the chair is from Horchow.
GUEST ROOM

MUDROOM

A William Ohs Architectural Series entry table in Luau Green, with a top in Natural Alder Veneer and brass Greenwood pulls from Schoolhouse, enliven the mudroom. The wallpaper is Isabella in Lime/Pink from Mally Skok Design, and the Signal Sconce in Brass is from Workstead.
MASTER BEDROOM

Schumacher Featherfest Leaf paper lines the walls, and Ketch Design Center custom-made the curtains. A silk-and-wool custom-sized rug by Marc Phillips Decorative Rugs sits under a bench by Slifer Designs. The side table is by Horchow, the throw pillow is Punica, and the ceiling fan is by Haiku.
MASTER BATH

The master bathroom—the only original room in the entire house—features existing tile floors and a tub by Victoria + Albert. The painting is a self-portrait by the Arnold's daughter, Haley, who is a BFA student at CSU. The chair was bought at a thrift shop and painted and upholstered by Fiona Arnold. The chandelier is from Arhaus in Cherry Creek.
DESIGN DETAILS
ARCHITECTURE Sarah Sexton, Sexton Lawton Architecture GENERAL CONTRACTOR Mainspring WALLPAPER Batya Stepelman, WallTawk CABINETRY William Ohs