A Beaver Creek Home Where the Boys Roam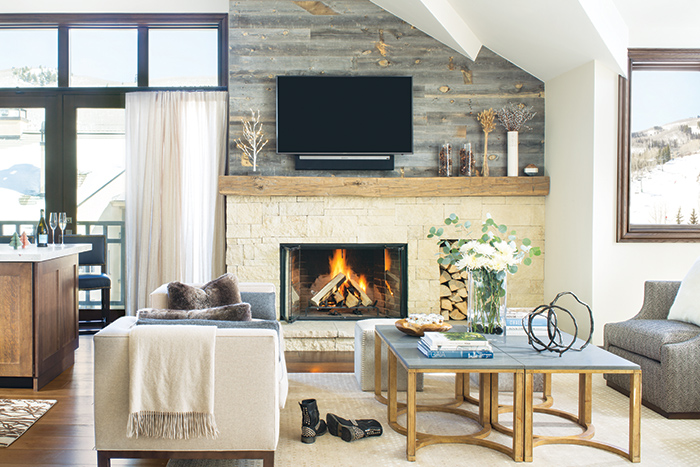 HOUSE NOTES
On a family trip to Beaver Creek in 2014, a Virginia-based couple had no intention of returning to the East Coast with a sizable new asset. But when they walked into a recently remodeled five-bedroom condo in Beaver Creek Lodge, instinct took hold and they put down an offer. The couple initially fell for the 4,200-square-foot space's hard finishes—reclaimed-wood accent walls, porcelain tile in the bathrooms, wide-plank walnut floors—as well as direct access to the mountains and the lodge's on-site amenities. The only things missing were furnishings and décor durable enough to withstand the couple's five boys' activity yet elegant enough to entertain.
"The homeowners didn't want it to feel like a kid's house," says Kellye O'Kelly, senior designer at Slifer Designs in Edwards. "But it still needed to be comfortable and practical for a family of seven to enjoy." O'Kelly chose furnishings upholstered in resilient wool-blend and textured fabrics that disguise the trail of sticky fingers and muddy boots, while bronze, stone and glass accent pieces were selected for their modern appeal. A neutral color palette of warm grays, creamy ivories and pops of orange contrast with bright white walls throughout. The finished product: a cozy getaway fit for wrestling matches and après ski dinner parties alike.
With five boys ranging from youngsters to teenagers, adequate storage was a must. In the entry, a built-in cubby with 10 Container Store baskets holds gloves, hats, ski gear and toys. An Alexandra Ferguson pillow reads "no fighting," a common refrain for the household.
A mix of patterns and textures adorns the dining room. Mitchell Gold + Bob Williams chairs upholstered in a plaid fabric sit atop a damask rug from The Scarab, while a pair of glass antlers mirrors branch artwork from Leftbank Art.
On the upstairs landing, a cream-colored leather chair from Lee Industries, chevron Noir chest and vibrant painting from Leftbank Art echo the clean lines and pops of orange on the condo's main level. A sliding barn door opens to the kids' play room, which easily converts into sleeping quarters for the boys when guests stay the night.
"Since the wife is constantly surrounded by her five boys and husband, we wanted the master bedroom to feel more feminine," says O'Kelly. "But not so feminine that the husband wouldn't feel welcome." To that end, O'Kelly selected furnishings with curved lines—a winged Lee Industries headboard and Hickory Chair night stand—and shades of ice blue and ivory.
DESIGN DETAILS:
INTERIOR DESIGN Kellye O'Kelly, Slifer Designs
SaveSave