A 1940s Home Update in Observatory Park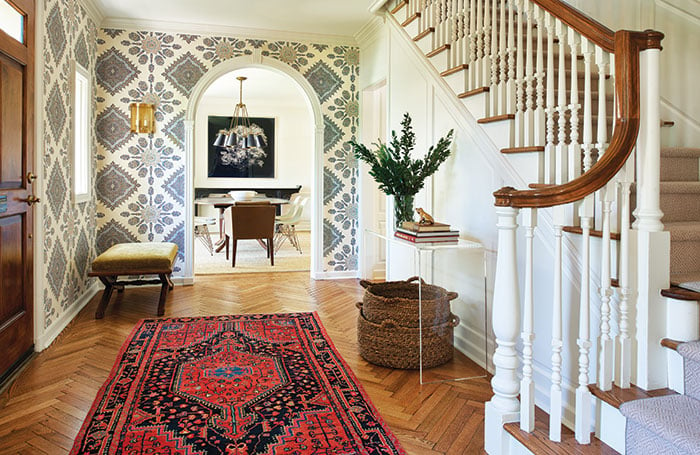 Sometimes, in Colorado, it's not all about the view. Sometimes it's about the yard. For Jen and Brian Frenkel, a married couple in their late 30s with two young children, it was time to upgrade from their cozy bungalow on a small lot in Observatory Park, mainly so they could provide a safe and secure backyard play area for their son with special needs. The couple were patient and waited until the perfect house—a 5,000-square-foot 1940s Georgian Revival on an 18,000-square-foot lot—became available in their neighborhood. The problem was, they weren't alone.

The 1940s Georgian Revival home is often referred to as "the Neusteter house" after the former owners, who ran the renowned Neusteter department store on Denver's 16th Street Mall.
"Because the house was so desirable, there were a lot of people interested," says Jen, referring to the multiple bids the sellers received within days of the historic house's appearance on the market. "Our realtor suggested we write a letter to the owners telling them about ourselves. We were really open and said we were Denver natives, we wouldn't flip it and we are incredibly connected to community. We added that our son was at The Joshua School and our daughter was at University Park Elementary and we needed to stay in the neighborhood to be close to their schools." The Frenkels' honesty worked. "The letter really spoke to them," she says. They closed on the house in 2015 and soon began plans to renovate.

The family's new kitchen features Crystal cabinetry by Kitchenworks, hand-fired backsplash tile from Ann Sacks called Elements in Tea Dust and a Calacatta marble countertop. The counter stools are Laurent by Hickory Chair, covered in Kravet fabric.
In addition to expanding the kitchen and building a much-needed mudroom, Denver architect Kristin Park turned a bedroom and bathroom into a relaxed family room for the Frenkels' 7-year-old son and 10-year-old daughter while keeping true to the period's original details, such as wainscoting and trim. Park also added a new archway that copied a similar design in the entryway to provide a more direct path to the master bedroom. During the nine-month renovation, the Frenkels also configured an elaborate security system as a safety measure for their son; it alerts them by text message when a window or door opens or closes.

Deborah Zlotsky's Was and Was Not oil painting from Robischon Gallery hangs above a Lee Industries sofa. The pillows are covered in Clarke and Clarke's Spirit fabric in purple and Pierre Frey's Carriacou stripe. The Lebon floor lamp is by Visual Comfort.
"We found a balance between respecting the historic details of the house and infusing it with their tastes." — Katie Agron, Designer
Because the couple have differing styles—Jen identifies as bohemian and hippie, while Brian prefers midcentury funky and modern—they brought in interior designer Katie Agron of Wolfe Design House to meld their styles and create a vision for the family. "We found a balance between respecting the historic details of the house and infusing it with their tastes," says Agron.

A Kravet fabric-covered sofa sits on an antique Persian rug from Denver's Authentic Rugs. Visual Comfort sconces frame the traditional arched entryway.
The designer specifically used soft textures and textiles throughout so that the self-described "homebody" family could snuggle in for days at a time. "And they wanted ample space to entertain at home because sometimes it's easier to stay in," Agron adds. She chose mostly custom-made, high-end furnishings from vendors such as Vanguard, Kravet and Lee Industries. "I really encouraged them to buy things to last for a long time," she explains. "They wanted to renovate this house, buy quality furniture, move in and be done. They don't want to redo in five years. They have a strong conviction in their taste and don't see it changing."
As for Jen, she says she's not worried about having her children jump or climb on their pristine new furniture. "A little worn and lived-in is better than brand-new and shiny," she says. "Pillow fights still happen."

A Hudson Valley light fixture hangs above a Lee Industries bed in the master bedroom. The Lee Industries sofa is covered in Schumacher fabric, and the carpet is by Karastan.
"A little worn and lived-in is better than brand-new and shiny." — Jen Frenkel, Homeowner

The kids' library, which features the only preexisting pine shelving in the house, offers a cozy spot for the couple's 10-year-old daughter and 7-year-old son to play and read. A Bernhardt coffee table is surrounded by a Lee Industries sofa, a leather chair by Crate & Barrel and two Currey & Company lamps. The Roman shade is Schumacher's Rain Dance fabric, while Visual Comfort's Trillion flush-mounted chandelier hangs from the ceiling, which is cleverly painted in Benjamin Moore's Hale Navy.
DESIGN DETAILS: 
ARCHITECTURE Kristin Park  INTERIOR DESIGN Katie Agron, Wolfe Design House LANDSCAPE DESIGN Designs by Sundown CABINETS Kitchenworks FINE ART CONSULTANT Ann Benson Reidy