8 Kitchen & Bath Features That Should Be on Your Radar in 2020
These leading-edge designs rival your everyday appliances with serious style and high-tech function.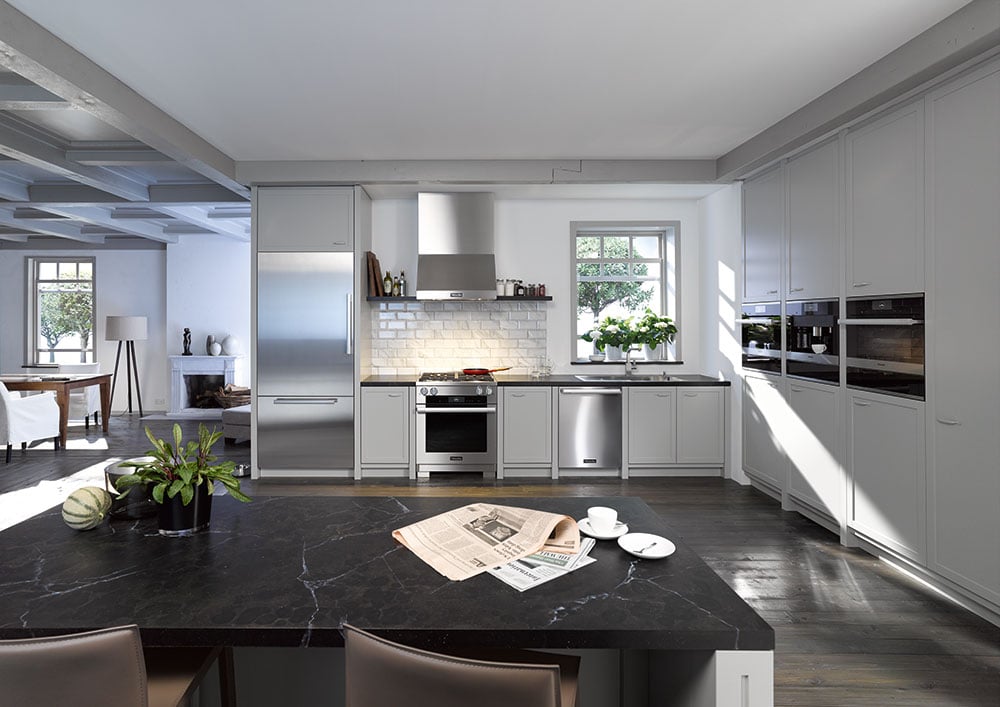 Photo above courtesy of Miele
You may have an abundance of natural light, gorgeous furnishings, and chic accessories to really accentuate your personal style—but it's the kitchen and bath that bring a true sense of luxury to your beloved Colorado home. From providing extra sanitization and cutting down on waste to adding even more color and texture where you'd least expect it, these eight appliance and bath features are options you'll definitely want to add to your dream home—and soon.
24-inch compact appliances
As Colorado's population density continues to grow—especially in areas like Denver, Boulder, and ski-resort towns—so too does the need for space-saving appliances. High-end fixtures like wall ovens, steam ovens, cooktops, refrigerators, and freestanding ranges are becoming more and more available 24 inches wide. These compact appliances are perfect for condos, lofts, and other small spaces. In the case of 24-inch refrigerators, what they lack in width they make up for in height, reaching up to 80 inches tall.
Also, up until recently, compact 24-inch laundry appliances used condensation dryers—a component that, in essence, vaporizes the water and creates a lot of moisture in the environment it's placed in, which can be problematic. The new industry trend includes laundry appliances with heat-pump dryers, which operates like reverse refrigeration and reduces the amount of moisture in your laundry room.
Manufacturers to keep an eye on: Miele, Bosch, Wolf, Asko
Pops of color
Colored appliances have been around for decades, but there's usually a limit to their hues. Today, in addition to the steady trend of matte black and white finishes, many appliances come with the ability to customize colors to your personal style needs or preferences. For example, you can now match your kitchen appliances to a specific paint color, taking your look to the next level.
Manufacturers to keep an eye on: Dacor, Bluestar, Kitchenaid
Organic materials in lighting and door panels
Light fixtures can truly make a statement in any space, no matter the size. A 2020 lighting trend in Colorado homes is incorporating Mother Nature into your lighting source—we're talking natural fabrics and woven materials like wicker and rattan.
Natural materials and organic textures have also started showing up on other previously unheard-of places, like leather on refrigerator doors—truly a cutting-edge design choice.
Manufacturers to keep an eye on: Jennair
Connectivity
On top of voice activation, motion sensors, and other high-tech features, appliances are reaching beyond convenience and shooting for self-improvement. Above-range hoods (where a microwave might've been) can now act as screens with recipe guides and step-by-step tutorials, turning the culinary novice into a home chef in no time. These interactive hoods can have built-in cameras, where you can get some quality face time with your loved ones while you cook—or even walk someone through a recipe (just like that Amazon Echo commercial). Some even come with microwaves behind the screens for all-in-one capabilities.
Manufacturers to keep an eye on: Café, Jennair, Dacor, Samsung
APPLIANCES & FEATURES IN THE ERA OF COVID-19
We're a quarter of the way into 2020, and we're already knee-deep in a global pandemic. The coronavirus has caused us to spend most of our time indoors or at least six feet away from other people—as we all do our part to "social distance" and "flatten the curve" (terms we hope will be out of style very soon due to a treatment or vaccine). The following three appliance features are particularly helpful for the constraints and concerns caused by COVID-19. Stay safe and healthy!
Bidets
This bathroom amenity is already a staple in Europe, and it's time for us in the U.S. to catch up! Bidets and bidet seats provide an extra level of cleanliness and sophistication. (They also don't require toilet paper, which is hard to find these days during the unfortunate coronavirus epidemic.) The even more luxurious component? You can customize your bidet to fit your personal preferences (heated seats and his-and-hers settings, for example). The bidet seat can be sold separately (you just need to make sure it fits your specific toilet), or it can be part of the bidet toilet itself—but either way, make sure your bidet will have reasonable access to power as well as plumbing.
Manufacturers to keep an eye on: DXV, Kohler, Duravit, Signature Hardware
Touchless faucets
Perfect for the kitchen or bathroom, a touchless faucet does more than eliminate that one simple push of a lever. Whether it's a fixture that still requires contact (with your wrist or the back of your hand), one that has a motion sensor, or one that is voice-activated to provide specific measurements of water, a touchless faucet cuts down on water waste and also reduces the number of surfaces that could potentially spread bacteria and other unwanted particles to and from your hands. While these faucets also need to be connected to a power source, many come with a backup battery pack so they can still operate regularly if electricity goes out.
Manufacturers to keep an eye on: Delta, Kohler, Moen
Sanitation cycles
Cleanliness is always in style, and even more so in 2020. That's where sanitation cycles come in. As long as they're designed specifically to offer this hygienic feature, laundry machines and dishwashers have the capacity to reach 160 degrees Fahrenheit—which gets fabrics and dishes not only clean but a truly sanitized clean. In a time where people are increasingly meticulous about decontaminating their belongings, these types of appliances create an added sense of safety and protection. They also can be seriously stylish.
Manufacturers to keep an eye on: Bosch, Asko, LG, Whirlpool, Electrolux
Mark Hopwood is Director of Sales at Builders Appliance Center, a Ferguson Enterprise and Denver-based appliance showroom that offers brand-name fridges, ovens, washers, dryers and other household essentials. Contact them at 303.789.9945.
Note: Due to COVID-19, the way we interface is dramatically changing. Builders Appliance Center has implemented virtual appointments and consultations due to the statewide shelter-in-place order. Delivery and installs are still being completed.
Content for this article provided by Builders Appliance Center—a Ferguson Bath, Kitchen and Lighting Showroom.