7 Tips For a Peaceful, Productive Laundry Room Design
Here's how to transform your laundry room from a stressful mess to a calm and organized workspace.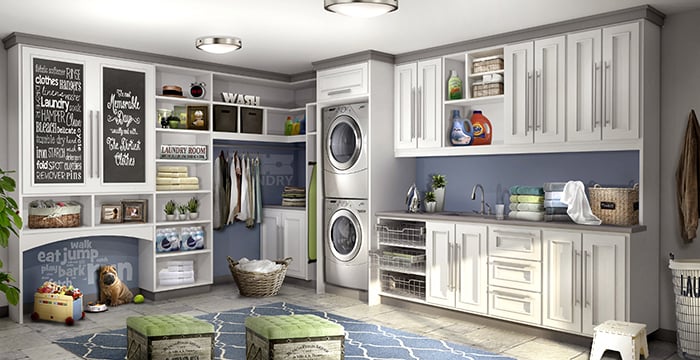 Sure, washing, drying, and folding might not be your favorite tasks on your to-do list—but designing and organizing your laundry room for optimal efficiency and peace of mind can alleviate some serious weekly stress. Here's how.
Consider a stackable washer and dryer. Putting bulky machines on the vertical allows the opportunity to use the remainder of the space for storage.
Incorporate a sink for rinsing out stains or soaking soiled items before they go into the washer. Use a free-standing utility sink or integrate a regular sink into a cabinet for extra storage.
Upper cabinets are another great way to use vertical space, and can add invaluable storage for laundry supplies, cleaning solutions, and other household items. Enclose upper cabinets with doors to hide away clutter, or you can use decorative baskets in open shelves to keep the space organized.
Create a folding space right in the laundry room by adding base cabinets or by placing a countertop above a front-load washer and dryer. Allow as much depth as possible to make folding laundry a breeze.
For items not suitable for the dryer, mount a rod and stock it with hangers for easily accessible air-drying.
Laundry rooms can be a great place to store bulk items such as paper goods and picnic supplies. Deeper shelves are a must, so consider the space and incorporate racks or shelving units to organize unwieldy items.
If the laundry room is in a high-traffic area of the house, add chalkboard paint to cabinet doors to allow easy (and fun!) communication between family members.
With a laundry room designed with these helpful tips in mind, you might not wince at that pile of clothes in the hamper—and we're willing to bet it'll get done much more efficiently.
Polly Lestikow is the president of Closet Factory in Denver, Colorado, which has been creating completely personalized and unique storage solutions for clients for 25 years. View their profile or contact Polly at 303-690-6901.
Content for this article provided by Closet Factory.